Tabir Husenyat in Ellenville, N.Y
July 15 - 27, 2007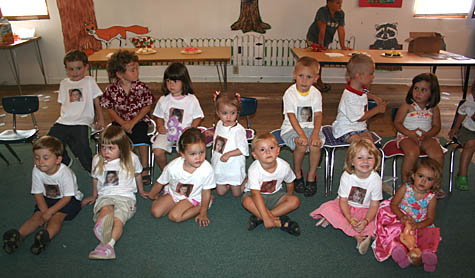 "U Lisi Na Tabori"
Tabir Husenyat is always exciting, interesting and fun-filled and this year proved to be no exception. From July 15-July 27th, thirty six 2-4 year old Ukrainian boys and girls were taborovyky in the tabir, "U Lisi Na Tabori" on Oselia Cym located in Ellenville, NY. This year the program was run by Sumivtsi Larysa Tomashosky and Marijka Melnick.
The Husenyat program ran from Monday through Friday. The day began at 9:30 in the morning, when children get dropped off, to 12:00 when parents pick them up and the whole group lunches together in the restaurant. During the 2 1/2 hour tabir children learn Ukrainian songs, dance, make arts and crafts, have a snack, read "kazky" and re-enact them and play Ukrainian children's games. This year the sing-a-long was led by Pani Bohdanna Wolansky and her trusty guitar.
In addition to the everyday fun activities, the children also participated in planting their very own "lis", learning how to make varenyky (they proved to be exceptionally skilled in the making of the blueberry variety) and hiking to the river where natural treasures were found along the way and recorded in one's "mandrivnyk". The campers had a great time picnicking riverside and then catching small fish.
The camp concluded with "zakryttia" on Friday July 27th where campers sang their learned Ukrainian songs (impressing their parents, of course) and received their camp certificates of completion. A big cupcake party followed! For information on or to register for Tabir Husenyat or any of our other tabory, please visit www.cym.org
Larysa Tomashosky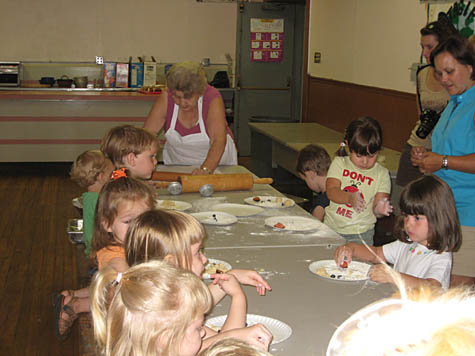 Husenyata learning to make varenyky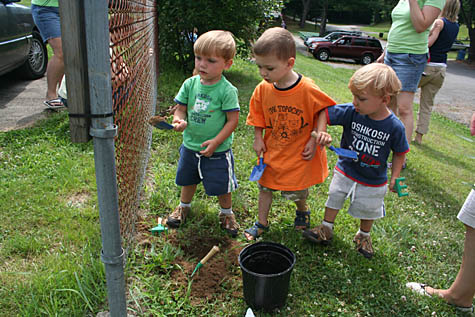 Husenyata planting their own "lis"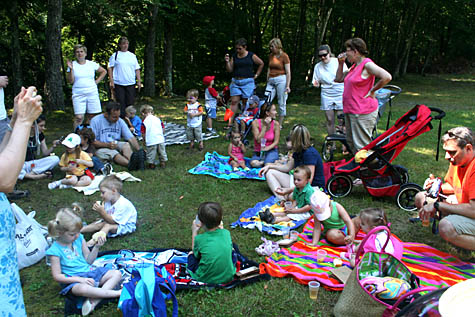 Lunch at the "richka" after the "prohulka"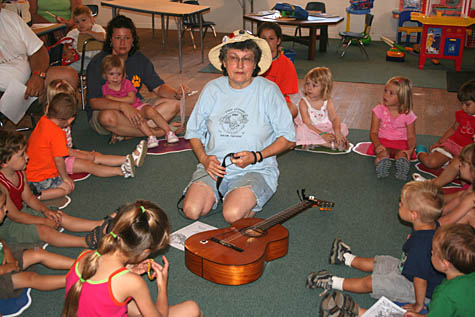 "Spiv" with Bohdanna Wolansky