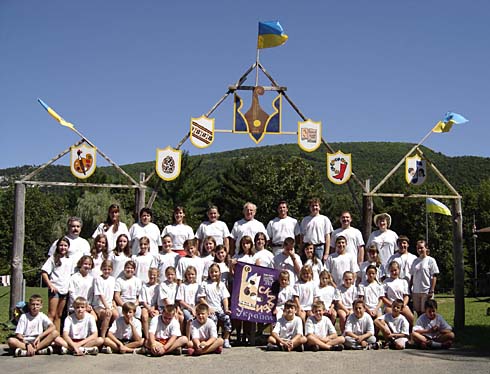 Vykhovno-Mysteckyj and Kobzarskyj Tabir "Skarby Ukrainy" in Ellenville, N.Y
---
[ Article | Photos ]
---
"Treasures of Ukraine" CYM Camp
The Ukrainian American Youth Association (CYM) is known for the variety of its activities with Ukrainian youth. On August 12-25, CYM sponsored a unique camp on the grounds of its well-known resort center in the Catskill Mountains near Ellenville, NY. It was named "Skarby Ukrayiny" ("Treasures of Ukraine") and focused on providing an educational and artistic environment for all its participants.
The young campers had an opportunity to familiarize themselves and learn about seven general forms of traditional Ukrainian arts and crafts: folk dances, songs, embroidery, Easter egg writing, glass painting, artistic recitation and bandura playing. The bandura is the traditional Ukrainian musical instrument.
The instructors were: bandura – Oleh Sozansky and Taras Lazurkevych, members of the "Bandurna rozmova" ("Bandura Conversation") artistic group; glass painting, drawing, graphic arts and sculpture – Andriy Khomyk, an instructor of the Novakivsky School in Lviv, Institute of Applied Arts in Lviv; Ukrainian folk dances – Volodymyr Polevy, 20-year experienced member of the Virsky Ukrainian National Ensemble; choir singing – Bohdanna Wolanska, president of the Ukrainian Music Institute of America and director of the "Promin" ("Ray") Ensemble; Ukrainian embroidery – Stephanie Szkafarowsky, connoisseur of traditional Ukrainian fine needle-work; Easter egg writing – Marianna Wasylyk, expert in handicrafts; and artistic recitation – Maria Polishchuk, lecturer on Ukrainian subjects.
The command staff of the camp was headed by Yuriy Nakonechny; his executive officer was Dmytro Lenchuk. Lena Hovanska was the secretary and Maria Polishchuk was the program education director.
In addition to the listed arts and crafts, the camp agenda included fun-filled endeavors, such as: a ceremonial "vatra" (bonfire) dedicated to the 65th anniversary of the formation of the Ukrainian Insurgent Army (UPA) and the centennial of the birth of its commander-in-chief, Roman Shukhevych (alias Gen. Taras Chuprynka); swimming in the pool and river; a field trip; an evening dance/social; night raids; and participation in Ukrainian Independence Day ceremonies, including raising of the Ukrainian flag, in the town of Ellenville on August 24.
The grand finale of the camp was a performance concert and exhibit of the works of the camp members, who were rewarded by the generous applause of the parents, visitors and guests, who enjoyed this successful event at the CYM resort.
Yuriy Nakonechny
---
[ Article | Photos ]
---