BANQUET "ZAPUSTY", SILENT AUCTION AND DANCE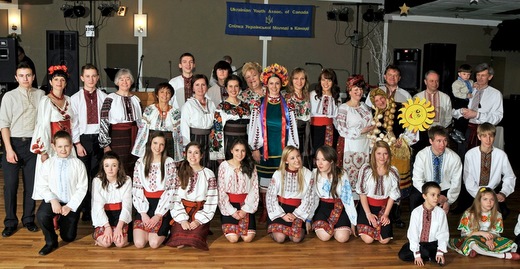 On Saturday February 18, 2012 a banquet, show, silent auction and dance were held. The evening was officially kicked off by former CYM Canada national president Roman Brytan of Edmonton. The current president, Olyana Grod, warmly welcomed everyone on behalf of CYM Canada followed by Andrea Kardasz, who presented a quilt commemorating the 120th anniversary of Ukrainian settlement in Canada sewn by Maria Shysh and Oksana Kuzyshyn of Calgary. Grace was sung by CYM Calgary chaplain Serhij Harahuc and long-time CYM member, Father Peter Babej, followed by the youth and instructors of CYM Calgary who performed the song "From God.'

The premise of the show "Zapusty" was a humorous and entertaining play written by Natalia Markevych, with assistant choreographer Stephania Romaniuk, music accompanist Mykhailo Musienko and the creative performance of CYM Calgary members. An added surprise to the entertainment was a performance by Merited Artist of Ukraine, Ihor Bohdan.

The rest of the evening was spent dancing to the sounds of 'Barvinok' until the wee hours, and participating in the Silent Auction which offered many interesting and beautiful pieces of artwork.

The National Executive wishes to, once again, express its gratitude to all who contributed to making the AGM/Plenary Session of CYM Canada a success. We thank Irene Jendzjowsky for presenting the 'Recognition of Members'. A special thank you is extended to CYM Calgary, Christine Musienko and Maria Shysh for coordinating the weekend.
---