Keep the Flame Alive in Calgary


On the initiative of the World Congress of Ukrainians, the Holodomor Commemoration began in Australia with the lighting of the Holodomor Torch that will travel to 33 countries of the world. The Torch has now arrived in Canada and was in Calgary on May 2, 2008. The event was organized by the Ukrainian Canadian Congress, Calgary Branch in which our local CYM branch actively took part.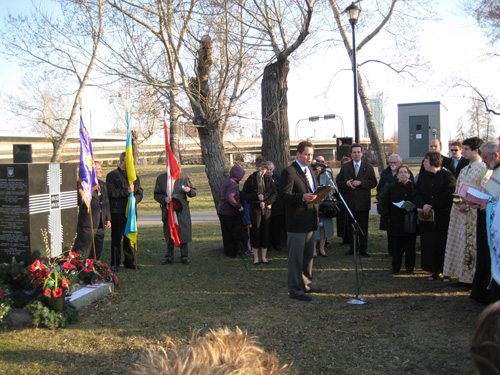 Regardless of this happening on a Friday, the end of the work week, everyone gathered at St. Vladimir's Ukrainian Orthodox Parish from which the procession to the Holodomor Monument began. Present were representatives and members of various Ukrainian organizations of Calgary as well as a noteable Ukrainian public.
Once at the Holodomor Monument, UCC president, Michael Ilnycky welcomed everyone who was present.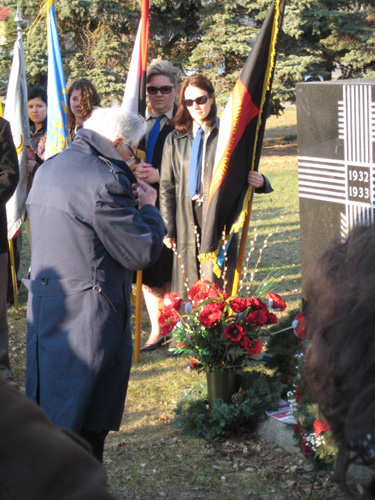 He explained the world action "Keep the Flame Alive", as well as introduced a Holodomor survivor, Stefan Horlasch who laid a wreath to the victims of the Holodomor 1932-33.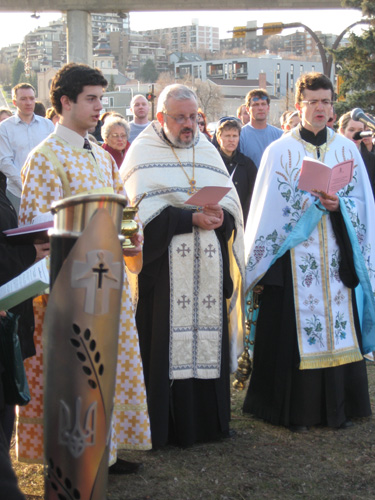 Rev. Taras from the Ukrainian Orthodox Parish of St. Vladimir and Rev. Serhiy from Assumption of the Blessed Virgin Mary Ukrainian Catholic Parish conducted a prayer service for the innocent victims of this tragedy.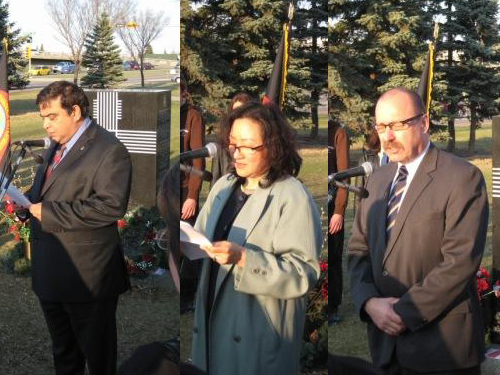 Representatives of the federal, provincial and municipal levels of government expressed the need to never let such a tragedy ever happen again.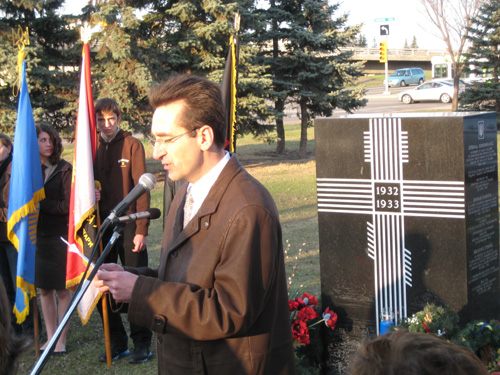 The Consul General of Ukraine, Oleksandr Danyleyko, explained Ukraine's efforts to return the historical truths about, and declare the Holodomor of 1932-33 a genocide against the Ukrainian nation. Mr. Oleksandr noted the great importance this world action to Keep the Flame Alive will have in achieving this goal.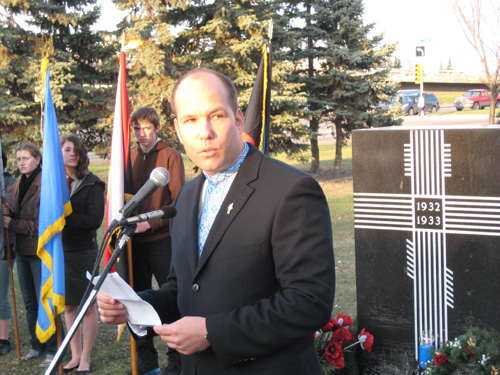 The president of UCC Canada, Mr. Paul Grod, noted the active participation of the youth, and especially the CYM youth in this action. He stressed the importance of spreading the truth about the horrible facts of the Holodomor.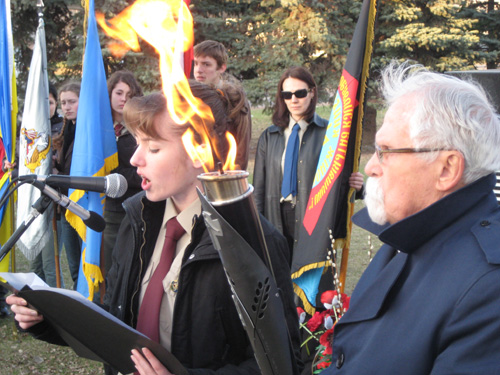 On behalf of all the the youth, sumivka Ann Zalucky accepted the Torch from Mr. Horlatsch pledging to always keep the memory of the innocent victims in their hearts and to work tirelessly to make the world remember about these tragic events and to declare them a genocide against the Ukrainian people.