PAKO FESTA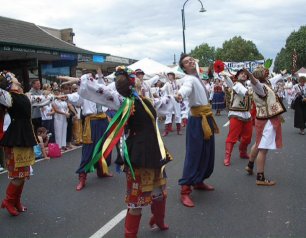 On the 25th February, Verchovyna Dance Ensemble together with the Ukrainian Community of Geelong participated in Geelong's annual PakoFesta. Considered as Victoria's largest multicultural festival, it was no surprise that the day was filled with excitement, vibrant colours and great cultural diversity.
The main highlight of the day was the Parade, in which students from the Ukrainian School danced to Ruslana's "Wild Dances", while Verchovyna's senior group showed the community traditional Ukrainian dancing from several regions of Ukraine, Central Ukraine, Hytslychyna and Transcarpathia.
The response from the audience was incredible.
The contrast between the traditional and the modern perfectly exhibited Ukraine's magnificent and elaborate culture, and tied in perfectly with the Festival's theme "The Art of Language."
After a seemingly short lunch break and a fleeting look at stalls from other countries and traditions, it was once again time to perform. Verchovyna's senior group performed the dance Kozaky, and Ukraine's signature dance Hopak.
All in all, it was a great day, and not even the threatening weather kept the smiles off people's faces.
Olenka Rydewich