Ukrainian Dance Telecast on SBS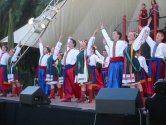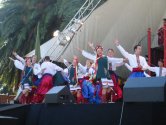 On Australia Day, 26th January 2003, several CYM members from Perth performed with the Roztiazhka Ukrainian Cossack Dance Group in a multicultural concert known as OzConcert. The group performed the Virsky Hopak, choreographed by one of Ukraine's most well known choreographers, Pavlo Virsky. It is a dance full of energy and stunning solos that captures the spirit in Ukrainian Cossack Dancing. Recently the performance was shown throughtout Australia on SBS displaying aspects of Ukrainian culture and the Ukrainian community in Perth.
Well done to all performers on their latest archievement. Thanks also go to Simon Korzec for use of the photos.